Sandra Taylor, LMA
Master Aesthetician in Falls Church, VA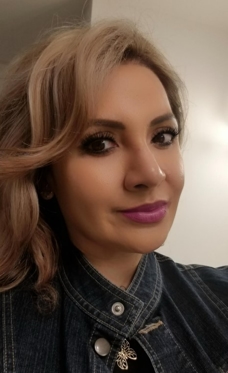 Sandra was born in Lima, Peru, earning her bachelor's degree in Business Administration from Universidad Del Pacifico (University of the Pacific). Sandra earned a Make-Up Artistry certification at the Yvonne De Vilar Scientific Skin Care Institute of Virginia, completed both her Basic and Master Aesthetics certifications at The Esthetics Institute (EI) in Tysons Corner, and has obtained advanced certification as a Master Aesthetics Instructor from AVI Career Center in Great Falls.
Sandra has earned Expert certifications in the application of several skin care lines, as well as a wide variety of specialized aesthetics treatment techniques. She is particularly adept in assessment of a patient's skin care needs and custom mixing of peels and masques formulated for desired outcomes, skillfully exploiting the use of various modalities maximizing a treatment's effectiveness. An unrelenting student, Sandra has obtained specialized advanced training in Touch Therapy, Anti-Aging, Acne and Oily Skin treatments, as well as those engineered for Hyperpigmentation, and Sensitive Skin.
Sandra's smooth, relaxing touch and skillful product exploitation are not only a great way to help maintain the effect of some of our more dramatic treatments, but also a wonderful way to treat yourself to some undoubtedly well-deserved pampering.