Zepy Jones, LMA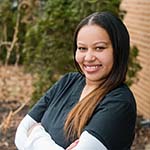 Zepy has had a lifelong interest in aesthetics and started her education in Milan (Italy) then moving to receive her Masters Esthetician license from Spectrum Beauty Academy in Virginia.
As a highly motivated skin care professional Zepy is a capable and resourceful Master Esthetician. She has the ability to utilize her skills and knowledge in waxing, facials, chemical peels and laser technology to treat hyperpigmentation, early aging, sun damage, acne, rosacea and hair removal. In her capable and gentle manner, she is able to meet your skin needs and provide well deserved pampering.
Zepy goes above and beyond to meet her clients' desired outcomes. By listening to her patient's concerns, she is sure to tailor her treatments to maximize their effectiveness and exceed the clients' expectations. The goal of having her clients look and feel their best is her ultimate success.